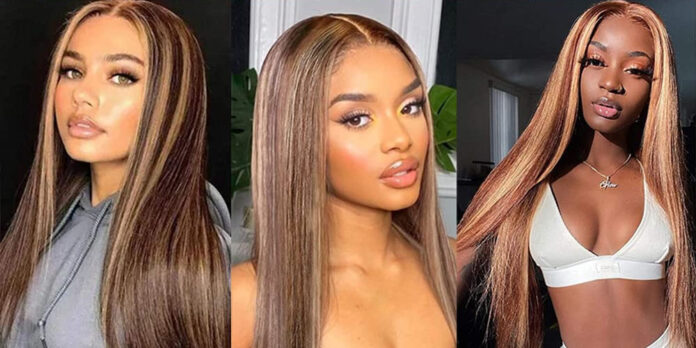 The honey blonde highlight wig is very realistic. As a realistic wig, it needs to stay in place always. A wig that keeps on falling or slipping down removes the undetectable element from it. Therefore, it is essential for your highlight wig to always stay in place. You can use several methods to guarantee your wig is secure. Below are some of the main methods.
1. Wear a wig cap below your honey blonde highlight wig
Wig caps are ideal for individuals who do not have any hair. Those who have hair can also wear caps. The caps are usually positioned beneath your wig. In the market, you will find a few types of wig caps. The most common are; wig grip caps, mesh wig caps, and nylon caps. The wig grip cap is best for you if you have sensitive skin. Also, if you have no hair or short hair, you can consider the nylon wig caps. The wig caps play a crucial role in ensuring that your wig stays in place.
2. Use a wig tape
A wig tape is another excellent option for securing your wig. Furthermore, it ensures that you do not experience a scratchy wig lining. The only demerit about the wig tape is that it can rip out your natural hair. The method is best used if you do not place the wig directly on your natural hair. It is because of the wig's tape's significant contribution to natural hair loss. Even though the tape guarantees your wig will not fall, the possibility of hair loss may limit its merit.
3. Use wig adhesive on your honey blonde highlight wig
Wig adhesive offers one of the best solutions to securing your honey blonde highlight wig. Glue ensures that your wig will not come out easily. Therefore, factors such as wind may not impact the stability of your wig. The best thing about glue is that people without hair can use it. The key consideration while using glue is first to wear a wig gap. Also, ensure that the type of glue you use is one meant for wigs. There are different adhesive types in the market. Not all the types present are perfect for your wig. Therefore, make sure to consult a specialist on the best type of glue. Also, if you have sensitive skin, you should avoid using glue.
4. Use silicone solution sheets
The silicon solution sheets usually come with an invisible thread and needle. The sheets offer an excellent way to fasten your wig. You only need to sew the silicone solution sheets into your highlight wig. The purpose of sewing the sheets is to develop a grip. The grip will ensure that your wig stays in place while you wear it. The best thing about the sheets is that they are flexible. Therefore, the wig will always be comfortable on your head. Furthermore, the sheets are very long-lasting.
5. Use the adjusting straps present on your honey blonde highlight wig
Some wigs have adjusting straps. The straps allow for one to tighten or loosen the strap. Therefore, you can use the straps to adjust your wig to a secured position.
Conclusion
The honey blonde highlight wig is very sophisticated. Therefore, ensuring that it stays in place is essential. If the wig is not secured in place, it may easily slip away. Thus, it is essential to use one of the above methods to secure your wig.